07.21.20
A party of nine flew up to Pioneer Hut, originally with the plan of climbing a few peaks, and traversing round to Centennial and Almer Huts. However, not unsurprisingly for July the snowpack was not especially conducive to walking long distances and with a pretty rubbish forecast our plans had to be somewhat fluid.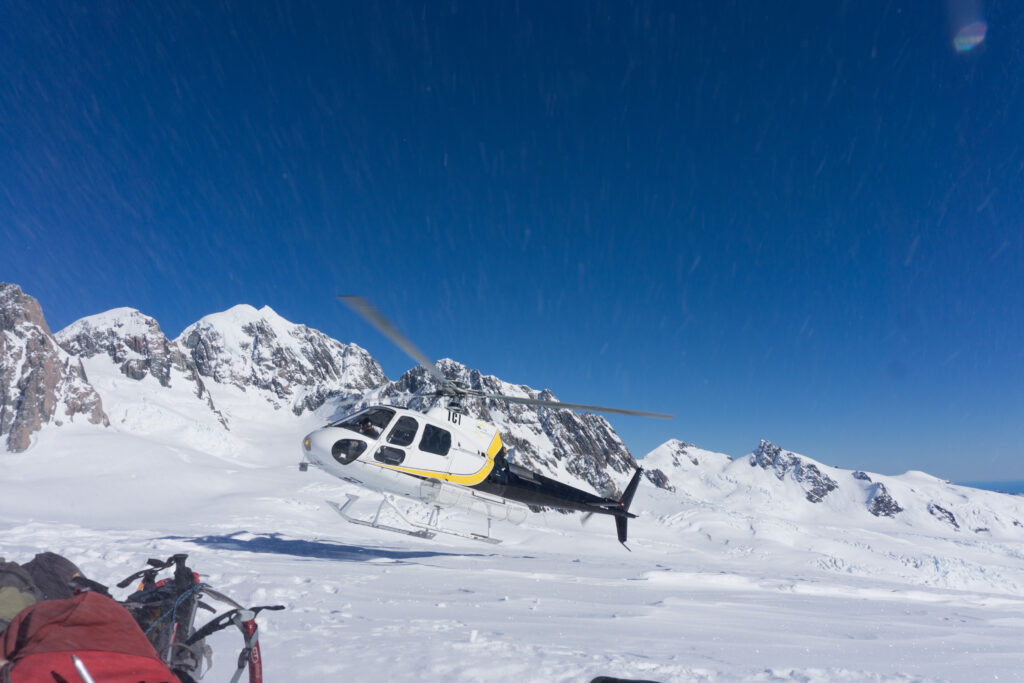 We headed up to Marcel Col for the day, putting in a boot pack for the next days trip up Lendenfeld Peak. The travel was straightforward up the TR of the glacier, with only a few partially hidden slots to cross (one of which half swallowed someone).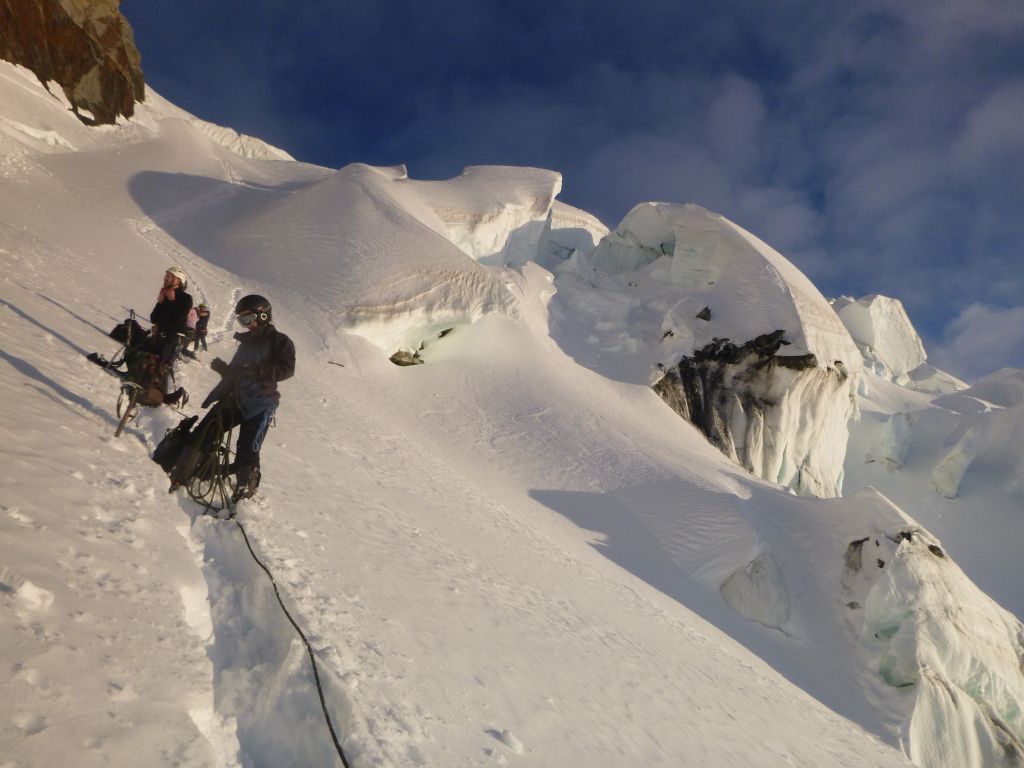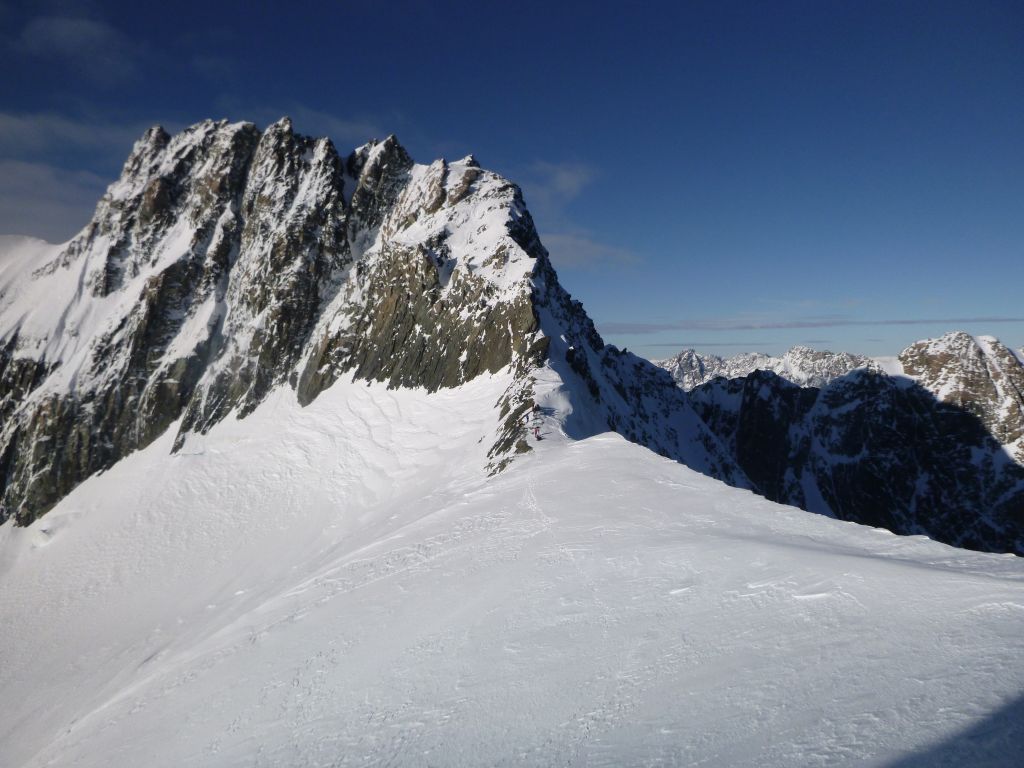 The next day, three of us got up early to make the trip up Lendenfeld Peak. With the boot pack a little more solid than the day before, we made relatively quick progress, taking about 3.5 hours to the top. We took a very leisurely pace back to the hut, for a round trip time of 7 hours. Skis would have made this trip very quick indeed, I'll certainly be bringing mine next time (we couldn't fit skis on two helis with 9 people unfortunately).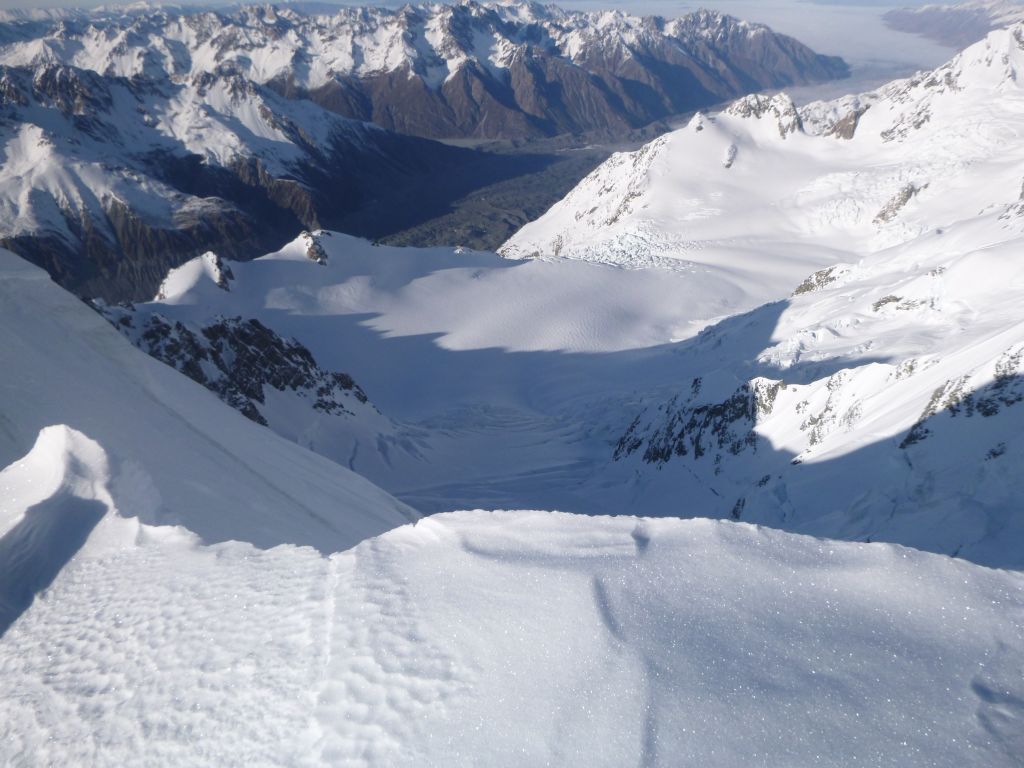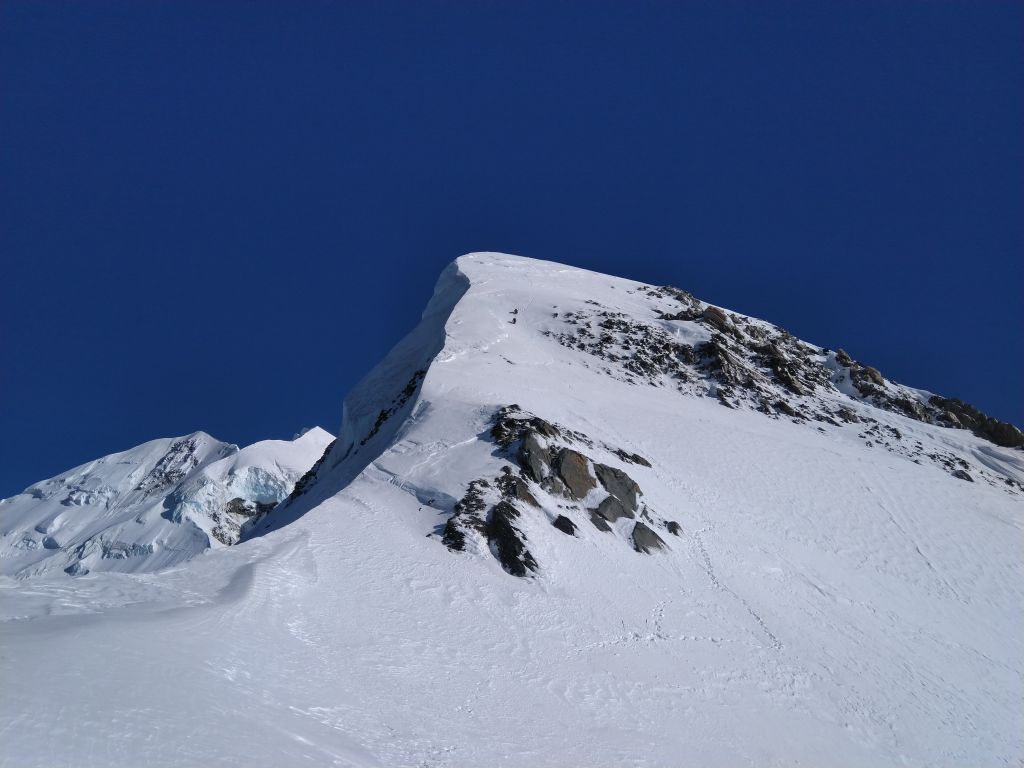 With only a half day remaining before we would have to fly out again due to an incoming storm, the next morning five of us went for a nice stroll over to West Hoe Pass to have a look over the Davis Snowfield, and summit the mighty West Hoe(!).
Given that we had all taken leave and had some time to spare, we decided to ride out the storm at Welcome Flats, soaking in the hot pools. DOC refused to sell us any hut tickets, saying that the track was about to be closed due to the weather, so naturally we went anyway, taking cash out to give to the hut warden when we got there. The walk in was uneventful, and we arrived sometime after dark around 9pm. The storm set in the next day, but not enough to cool the hot pools, and we spent the entirety of the day in the hot pools drinking vodka and rum - not a combination I would recommend. We eventually made it back into the hut around midnight. We raced out to the car in driving rain the next morning. While not the adventure we originally planned, one can never complain about a good time out in the hills!
10.21.19
I tried to climb this rock the other day. I won't mention the location as there is no public access (other than by water) and the nearby landowners are wary of visitors.
The rock has been climbed once before (as I understand it by a 12 year old!), and DOC has visited once by helicopter to perform a survey of plant and animals.
Our hopes for a flat sea (like in the photo above) were dashed a week out from our trip - we knew there was no chance of that with the forecast. Once we were out there there was a swell of maybe 2 or 3m, and strong wind. We decided to give it a nudge anyway, and hopped into our wetsuits. It is only a ~50m swim but with a very strong rip trying to push us up the coast we had to swim hard to make it across before being pushed across the front of the arch. The only place you can freeclimb up the rock is on the southernmost point, so we traversed around the rock\swam around the corner, fighting the swell and the current and doing our best not to get bashed against the rock and sliced open by the shellfish.
The climb only has two short vertical steps, about 5m each with a small shelf separating the two. Being conglomerate, it is not good climbing rock, and the bottom half was wet and slimy. We made it up the first climb without too much difficulty - but after staring at the second climb for some minutes we both came to the conclusion that attempting this was well off into the wrong corner of the risk matrix. A fall from here (given that we had no protection at all, not even helmets) would probably not be fatal, but the chance of any rescue before dark and a rising tide was slim to none.
Beaten, we carefully downclimbed back to sea level where we were promptly swept off the rock by a large wave and swam back to shore. All was not lost however - we picked off a selection of the tastiest looking mussels for dinner.
01.13.19
I had been itching to get out to the mountains for weeks, so after a few failed attempts to recruit some other goats to join various missions I eventually cobbled together a group to go canyoning. I was quite keen on Twin Creek, but we settled on Temple Col in the end.
It was still fairly chilly when we arrived, but by the time we got up to the head of the canyon big yellow was out and it was fair toasty.  Wetsuits and harnesses were donned, then it was off down R1.  After the first three rappels, the bulk of the canyon is descended (vertically), but there is still plenty of shorter raps, the odd jump, and lots of pleasant boulder hopping before you get out.  In high flows some of the down climbs would be somewhat challenging, and some of the raps would be pretty full on so think carefully before you commit.  Sadly there is a lot of rubbish in the canyon from the ski field above - lots of wire, steel tube, crushed diesel tanks, and even a carriage from the goods lift.
09.29.18
Group trips to Nettlebed don't happen that often, so I was keen to get in on the action when a Blizzard Pot trip came up on the agenda recently. Plans were made and five of us headed up to Murchison to meet a sixth at the pub where some of us ordered dinners much too large for our stomachs. For future reference the battered blue cod is really four fillets of cod with a generous portion of fries and salad so make sure you are really hungry before ordering... after eventually finishing most of the food we went up the road and camped beside the Motueka River.
After some faffing the next morning, we headed up to the Pearse to drop a car then the six of us squeezed into M's car for the trip up to Flora saddle.  Because there was no loo at our campsite, the one at the Flora carpark got a hiding as everyone was attempting to avoid having to go in the cave.  Once everyone was sufficiently evacuated we wandered up to Arthur Hut, said hi to the Hut Weka, continued up the mountain, slid down the snow covered tussock back to the bushline, and started looking for the entrance. 
Read the rest of this entry »
04.2.18
This years Easter trip was to be a circumnavigation of Durville Island by kayak - something I was woefully under prepared for given my lack of kayaking experience.  Nevertheless on a sunny morning six of us congregated at French Pass, unfortunately to discover that we had misinterpreted the tides and the tidal flow was going at a fair rate in the wrong direction.  After a brief discussion we headed for a friends private property west of French Pass to launch there instead of waiting several hours for the tide to change.
09.25.17
The forecast looked like it was going to be acceptable, so our plan to do the Cairns Catacoombs - Kubla Khan - Xanadu round trip was a go. There was just one problem: we couldn't find the entrance to Cairns.
I had been taken there a few months earlier, but I obviously wasn't paying much attention because when we went to where it should have been nothing looked familiar at all. We poked our noses down a couple of holes, but they all seemed too tight or didn't go anywhere. After an hour we gave up and decided that no problem, we would just do it backwards instead!
So off into Xanadu we went, noting that it had obviously flooded quite recently as there was debris everywhere. After removing a few logs from the entrance we were in! After wasting time looking for Cairns we didn't spend any time mucking around in Xanadu and headed straight for the great wall and down to the bottom of Cairns. We spent a few hours exploring the bottom of the cave, had a chat with an eel swimming around in the sump and took a quick stroll down the great crack. After a brief lunch stop we decided to head for the surface. Unfortunately the cave had other plans for us. Having only done the trip in the reverse direction, I recognised nothing in the entrance maze of Cairns, and we rummaged around in the small crawlways and rock fall for over an hour trying to find a way out. At one point we even found daylight, but it was up a dodgy 5m climb and though a 5m slightly uphill squeeze. I got stuck half way into the squeeze, and even though I might have managed to get through with more perseverance there was no guarantee that rest of the team would have, or the bag.
At this point we were only two hours away from our due out time, so the decision was made to bail back out the way we came. We put our skates on, and made it back around to the Kubla Khan entrance in 45 minutes, plenty of time to get back to Punakaiki and call of the hounds! Now to go back and do it properly...
09.15.17
Time for the annual trip to Mt Rolleston - what started as a group of two ended up being four, with several other parties on the mountain as well keeping us company.  Recent rain and low freezing levels made for near perfect conditions and we made reasonable time up to the gap where we bumped into a large group from the local mountaineering club.  They were in the process of fixing the gap so we snuck ahead going solo and zoomed up to low peak.  Seeing as we had plenty of time we did the side trip to high peak where we finally pierced the clouds and got a great view of the west coast.
01.26.17
To climb aspiring walk in - walk out in three days via the quarterdeck with a marginal forecast in November was always going to be an ambitious plan, but we were optimistic enough to give it a go, so we did.
Fridays objective was to get to Colin Todd, a walk we figured would take about 12 hours.  We made good progress to French Ridge Hut in 6 hours and everyone was feeling good.  However the snow made for torturous travel above the hut, with ankle to knee deep snow the norm, with a few small patches of firm snow sprinkled about.
10.30.16
A trip that has been on my bucket list for some time, a good one day weather window opened up on a Saturday so two of us decided to give it a crack.  We left at 4.30am, as I was expecting this trip to take at least 13 hours, and lucky for us it had stopped raining an hour before so we had a nice dry walk up the Otira - that is until the sweat inducing slog up towards Warnocks Bluff.  This was unfortunately covered is soft snow, which persisted for most of the trip and made for relatively slow progress.  Warnocks Bluff was passed without any difficulty and we proceeded towards Mt Philistine, in which we sumitted 5 hours after starting - not bad time considering the conditions I thought.
The ridge immediately following the Mt Philistine summit was more technical than I was expecting, and we had to drop off the ridge a couple of times to bypass gendarmes surrounded by large overhanging cornices on one side.  Travel was otherwise mostly straight forward to Pt 2000, with one or two spots that were not difficult but required slow and careful movement.
05.10.16
Somehow I have managed to not do any caving on Mt Owen in the few years since I started, but I finally got my chance recently on a trip with three others to Bulmer and Bohemia.  We only had three days, so we walked in early on Saturday to beat the rather miserable looking forecast, hoping that we would be underground by the time the rain reached us.  About 10 minutes up Bulmer Creek we had the first of many encounters with wasps, and we would often move quickly together through sections to attempt to avoid getting stung, which I luckily managed to do so - not so for the others.
Read the rest of this entry »